Modification and Refurbishment of Cimdor Microwave System
Initial Problem: This system was originally manufactured by Cimdor of Spain in 1980 and was in a non operable condition. All components were European and many were discontinued years ago. Since the inner cavity and outside frame were still in acceptable condition we felt it feasible to refurbish and modify the entire system.
Purpose of Modification: To completely strip system of all components and wiring with exception to inner microwave cavity and frame. Redesign all circuitry using modern, readily available American components.
MES Solution:
· Remove all components and wiring.
· Thoroughly clean inner microwave cavity and outside frame.
· Thoroughly clean all waveguide sections and circular resonators.
· Install ( 8 ) new MES manufactured microwave power supplies, increasing system power from 10.5 kilowatts to 12 kilowatts.
· Install new 12 kilowatt electrical heating elements, air blower assembly and variable frequency drive to have complete control and adjustment of convection hot air.
· Install new belt conveyor circuitry, components, metering and Teflon fiberglass belt.
· Install new microwave control circuitry and metering.
· Install new interlock and protection circuitry.
· Test system completely and insure microwave leakage is at acceptable limits.
· Warrantee system for 1 year parts and labor.
End Result:
· Basically a new microwave system, with readily available components designed for ease of use and maintenance at a fraction of the cost of other comparable new systems.
· Complete system specifications and additional photos are available upon request.
Before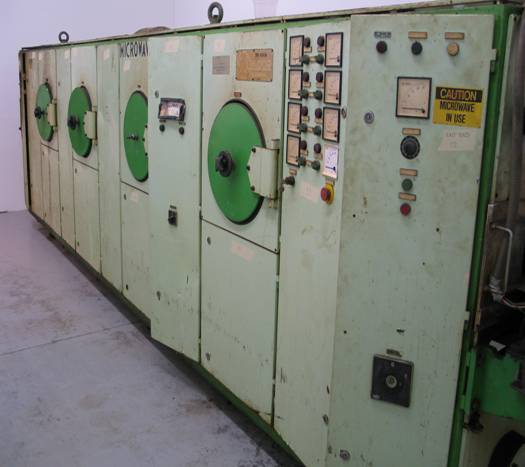 After